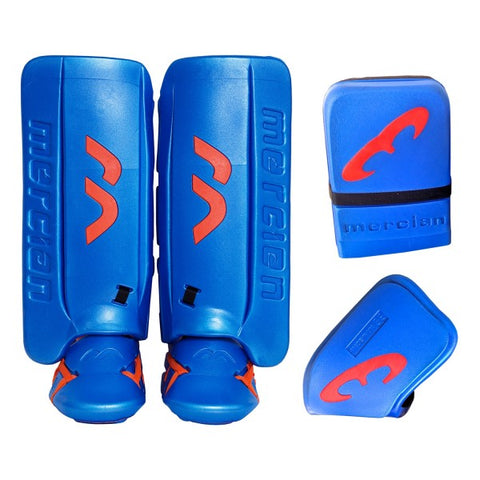 MERCIAN Evolution 0.1 GK Foam Set (LG/KI/GL) -
KES / =
Enquire in store. 

A full set of International Level (Lvl 5) goalkeeping foam. Leg-guards, Kickers and Gloves made from multiple layers of lightweight, high and medium density foams to maximise protection and rebound.
+ Leg-guards
+ Kickers 
+ Gloves 

+ High rebound multiple layer international level leg-guards
Level 5 (International) protection
The Evo PRO leg-guards have a unique skin on the top foam layer, reducing the friction experienced between a pure foam surface and the turf / pitch. The three-strap arrangement helps with fit and enables a goalkeeper to have looser / tighter strap combinations. The fully rounded inner pad is made from heat sensitive foam so it moulds to the GKs specific leg shape over time.
Medium (5'4" - 5'8"), Large (5'8" - 6'2")

+ International level continental style goalkeeping hand protectors.
Low profile left hand with internal finger grips.
Maximum size right hand with internal protective 'cage' design.
Fully mobile wrist area
Dual layer forearm protection.

+ High rebound multiple layer international level kickers
Level 5 (International) protection
Lightweight, Triple layer, high and low-density foam combinations on instep
Shaped wrap-around tongue to fit with leg-guard strapping
High rebound for ball clearance
Single toe-strap as requested by international GKs
Leg-guard / Kicker fixing strap reduces pad rotation
Medium (UK Size 5-9), Large (UK Size 9 - 13)

Manufactured to European quality standards

Designed by international keepers from MERCIAN sponsored players such as Tyler Lovell (Aus), George Pinner (Eng/GB), Amy Tennant (Eng / GB), Tommy Alexander (Scotland) and Devon Manchester (NZ). These are some of the most protective, lightweight and high-rebound items available.

As the role of the 'keeper continues to grow as the game becomes faster and faster, simple shot-stopping is just a small part as mobility, agility and flexibility are increasingly called upon by the new 'sweeper keeper', an active part of the defensive unit.

All the items in the growing GK range are designed to enhance protection but minimise weight thus aiding pure speed and inspiring confidence in the GK's own ability.



---
We Also Recommend