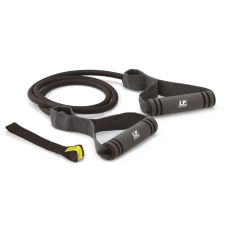 Resistance Tube with Door Anchor - Heavy LP FT7112 -
Resistance of approx 6.5-10KG (HEAVY)
Essential tool for muscle group training and joint stability improvement at the comfort of your own home/office/travel/outdoors.
Can be affixed to a stable point such as a door frame, heavy furniture (bed frame), crossbar/beam or even used with a training partner.
Provides for a variety of training regiments done in a gym on common cable machines/bench presses/
Color: Grey
Material: Latex, PP, Foam, Wood, Polyester



Very popular, and for good reason: they're versatile, safe & easy to use, portable, and cheap. You can incorporate this great tool into a multitude of workouts. With comfortable foam grips, a smooth stretching tube, & a door anchor included for a wider range of exercise variations either when you're going solo or super-setting with a partner.

Washing instructions:

• Wipe with cool, damp towel or sponge. Air dry in the shade.

Caution:

• Children should only use such equipment under adult supervision.
• Never release the band under stretch. Sudden retractions may cause severe injury.
• Stretching band to double its original length may damage the product or cause unexpected injury.
• Unwise to wrap the band around any body parts, especially the head or neck.
• This product contains latex, which may cause allergies to some. Discontinue use and consult a professional physician if this occurs.
• As with all exercise, immediately discontinue any activity if pain or discomfort occurs.


---
We Also Recommend