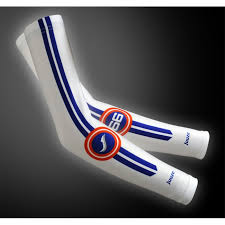 Juuze Climax Arm Sleeves +++
Wellness
Juuze arm sleeves are made from superior quality fabric that contains anti-bacteria properties and protection against the increasing harmful effects of the sun (UPF 30-50).
Optimal Performance
Juuze arm sleeves feature gradient compression technology that boost athletic performance and support for key areas thus minimizing muscle vibration and risk of injury.
Comfort
The fabric used has moisture management wicking which perspiration is drawn away leaving you cool and dry. This process allows the body to regulate its temperature naturally.
Juuze arm sleeves also come with anti-slip arm band that provides good traction to hold arm sleeves in place for motion engagement.
Fashion/Lifestyle
Juuze arm sleeves incorporate not only high-end features but also style. These colors/designs are specially engineered into our fabric that will ensure no shrinkage and color runs.
Size : XL 


---
We Also Recommend