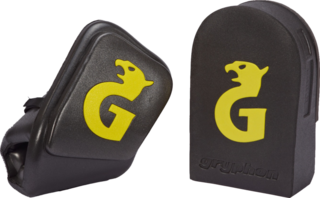 Evo 3 Hand Protector 17 -
FGE / =

High Durability, Protection & Performance
High density Foam and Absorbing material
Right Hand Increased wrist and forearm Protection
Internal Strap Left Hand,
Maximal Surface Area Finger Grid System

Still the ultimate in hand protection, the EVO III Hand Protectors provide high durability, protection and performance. The lightweight, high rebound foam construction encourages you to make controlled and confident saves on both sides. The left hand protector has maximal surface area to improve your odds, with the inner finger grid system to increase grip strength and comfort. The right hand protector is built alongside the global demand for increased wrist and forearm protection coupled with a better stick angle for flat stick saves. The internal strap system improves your stick grip and strength, letting you make those stretched saves with confidence. The increased surface area up the wrist is built flat to give increased reliability and predictable direction. The layering of high density foam externally and more comfortable force absorbing material internally combine to give you the ultimate in hand protection.



---
We Also Recommend