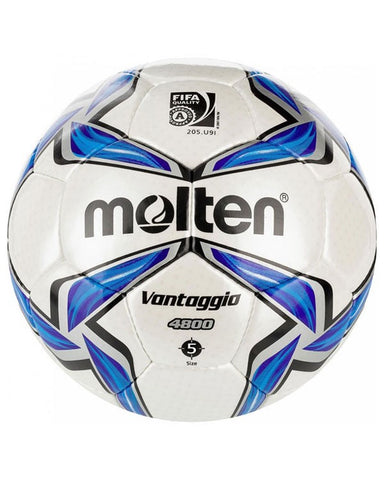 Molten Vantaggio 4800 - FIFA Football -
Molten Vantaggio 4800
Specifications:
FIFA QUALITY PRO APPROVED (205.A1H)
NFHS Approved
Premium high gloss PU cover
Hand cross-stitched
4-ply laminated with foam backing
High density latex bladder
Size 5 only
Pearl, Blue/Black
The Molten Vantaggio 4800 Soccer Ball is hand cross-stitched and features a premium high-gloss PU cover, 4-ply lamination with foam backing, and Molten's top-of-the-line high density latex bladder to provide a consistent, quality touch with every contact.
Designed for maximum durability, the FIFA APPROVED 4800 will consistently withstand the demands of elite competition.
It's the soccer ball of choice for numerous state associations, high schools, premier & youth soccer organisations and junior clubs across Singapore and is used at the top levels most other international competition.
Live Life, Live Sports
facebook.com/ArcadeSports


---
We Also Recommend